Lately I've been watching the emails I get from blogs, courses, conferences... And, it must be professional deformation, I find myself repeatedly making the same mistakes. That's why I decided to write this article.
These most common errors are:
Do not personalize the welcome email.

Include images without a link to the Web.

Do not highlight the CTA (Call To Action).

Do not implement link tracking. or do an automatic implementation.

Do not authenticate the sending server of the external platform.
Do not personalize the welcome email.
Todas las plataformas de email marketing (Mailchimp, Acumba Mail…), nos permiten automatizar los envíos de email de bienvenida, es decir, el primer email que recibe nuestro nuevo subscriptor. En muchos casos, me encuentro que cuando me suscribo, recibo el mismo email con la misma maquetación y el mismo mensaje, el mensaje por defecto que genera la plataforma.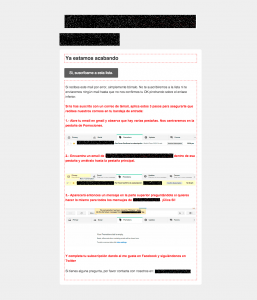 Why is it a mistake? First by image. If someone sets up an email marketing delivery system, and doesn't care about the content the first time they send me, I might think that what they find after that is of low quality. And second, you're missing a golden opportunity to notify subscribers to add us to their list of trusted users or to check their promotion category in case our email is there, as it is with Gmail.
In the end, it can happen that after subscribing, our user does not see any of our emails because it ends up in spam or promotions.
Include images without a link to the Web.
When you include an image, you usually click on it, hoping that it will lead to the content on the Web. If instead of linking this image to the page on our website where we want them to go, we put it "as is" and do nothing else, when the person who receives our email clicks on it, it will open in a new window, if not the same as the email that would be worse, the browser. In a client I work with we usually put the same link in the image and in a button behind the text, the clicks on the image report 20% of the visits to their website.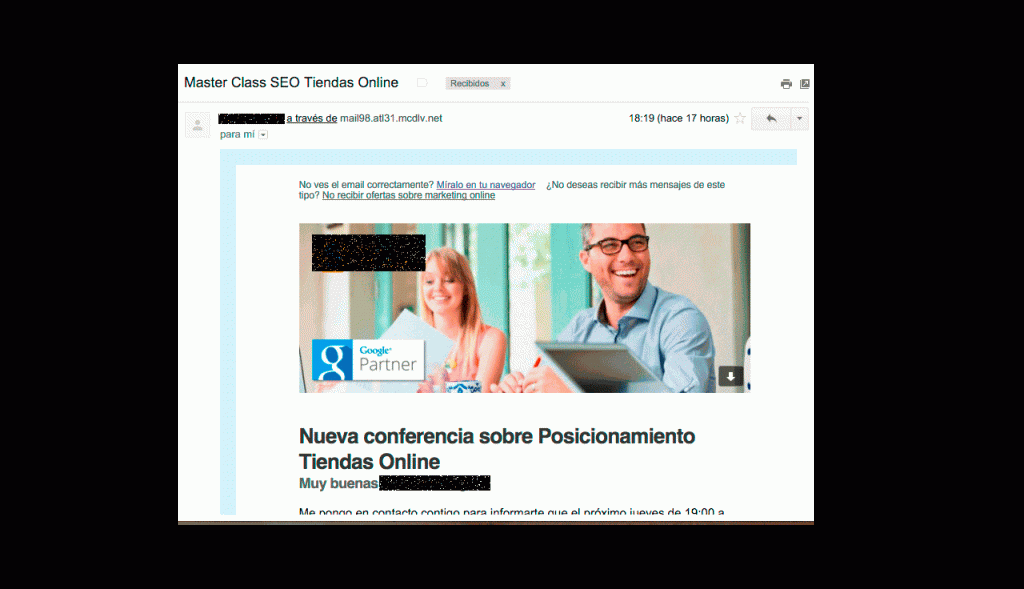 Do not highlight the CTA (Call To Action).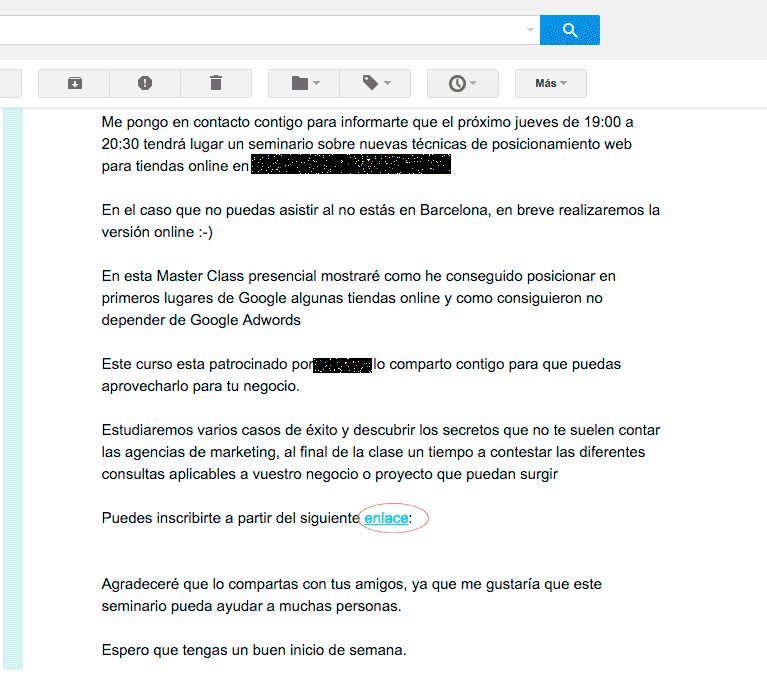 Another mistake, not highlighting the CTA, the call to action.
Cuando enviamos un email a personas interesadas en nuestro producto o servicio, esperamos que hagan algo,  leer nuestro artículo, solicitar más información sobre nuestros servicios, comprar un producto…. Si no destacamos esa acción, mermamos las posibilidades de que ocurra.
Do not implement link tracking (OR do an automatic implementation).
In some cases, I have come across emails where the links are placed as they are, i.e. not labeled,
If we want to measure the impact of the campaign on the web analytics tool, we need to implement link tracking through link labelling. We can do it two ways: Automating this monitoring from the tool or manually.
If we automate, at least in Mailchimp, we'll run into two problems:
a - We have to be very careful with the name we give to the campaign (no accents, no eñes, nothing like that) and also we can only track campaign, medium and source, which in the latter case will be the name of the list, not a possible segment of it.
b.- Cuando alguien pinche sobre el clásico enlace de "Si no puede ver correctamente este email, pinche aquí" y le lleve a la versión Web de nuestra Newsletter se perderá completamente el etiquetado, y las visitas que recibamos desde la versión Web, se guardarán como referencias de una Web externa, no como visitas que provienen de una campaña de email.
Sin embargo, si lo hacemos de forma manual, creando los enlaces etiquetados desde una herramienta como Google Analytics Campaing Tagging Tool, podremos controlar qué datos queremos enviar a nuestra herramienta de analítica, incluso definir a qué segmento de nuestra lista le estamos enviando dicho email. Y este etiquetado se trasladará a la versión Web de la Newsletter.
Do not authenticate the sending server of the external platform.
Por último, me he encontrado muchos casos en los que en la cabecera del email, en el campo del remitente, además del nombre a mostrar del remitente y su email, un "a través de….", que no es más que el servidor de la plataforma que hemos elegido para hacer los envíos, y esto nos puede generar algún problema, como por ejemplo que nuestro email acabe en la carpeta de Spam.
The solution for this case is to authenticate the sending server before Google, Hotmail ... and this is achieved by adding some entries to the DNS of our mail server that tell the email services that the server of our sending platform is authorized to send emails on our behalf. This way, when we send a newsletter, only our name and email address will appear on the sender.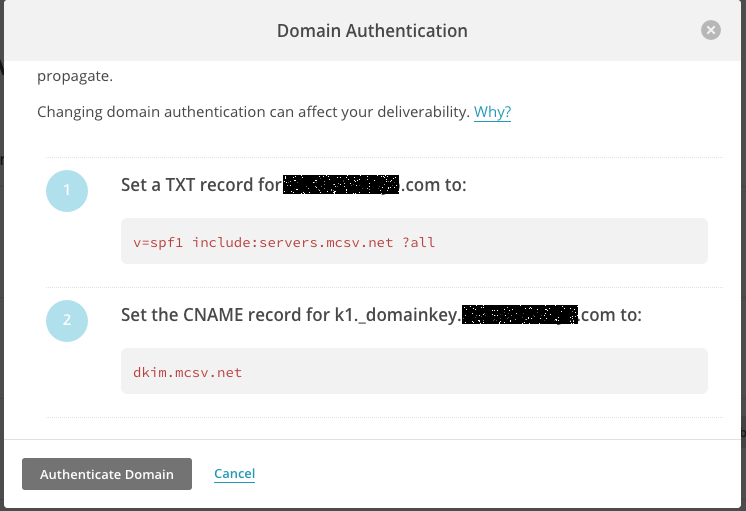 Resumiendo, cinco son los cambios que debemos realizar a la hora de implementar y enviar nuestros emails: Personalizar el email de bienvenida, configurar las imágenes para que tengan enlace a la Web, destacar el CTA, implementar el seguimiento de enlaces y autentificar el servidor de envío de la plataforma externa. De esta forma, optimizaremos que estos lleguen de forma correcta y que podamos analizar cuál es el impacto que tienen en nuestros resultados.
And you, what other errors have you detected when they send you a newsletter?
I invite you to leave your impressions and/or doubts in the contact form and to suggest new topics that you would like me to cover in these tutorials. I will be happy to answer you by email and write in this blog.
Imagen destacada Credit Ramonhernandez1720 http://nachobenavides.com/diseno-web-almeria