Upgrade to Google Analytics 4
You have decided to implement a GA4 property, either on its own or to measure in parallel with Universal Analytics, how should you go about it?
Let's get to it. How do I upgrade or implement GA4? Well, you can find yourself before two scenarios: You already have an Analytics account or you create a new account. In the second case when you create a new account it will be GA4 by default, if you already had an account you will be able to create a new property thanks to the upgrade wizard. This is the scenario that I am going to show in this article, but creating a new account is similar.
Upgrade Wizard
If you already have a Universal Analytics property in the admin section you will see that a new option has appeared: GA4 Setup Wizard (in some cases you may see Upgrade to GA4, but it's the same thing).

When you click on this option it will launch a wizard to create the new GA4 property. One detail, this is not going to affect the Universal Analytics property in any way, it will simply allow you to create the GA4 property and configure some options. So no fear...
When you start the wizard you will be presented with two options: Create a new property or connect the new property to an existing one. If you are doing this for the first time, only the first option will be available.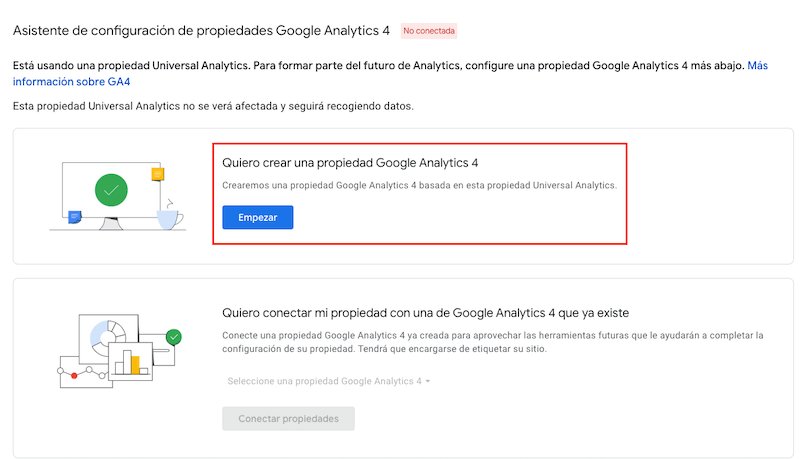 Once you click on the start button, a pop-up box will appear explaining the steps involved:
Create a Google Analytics property 4.
Copy the basic settings of your Universal Analytics property.
Activate Enhanced Measurement.
A pause, you can connect GA4 to gtag.js
A detail that I already mentioned in the previous article: If you have implemented Universal Analytics through gtag.js, the tag that is generated by default when you create a GA3 property, you will have the option to Enable data collection through this tag.
That is, without making any changes, the tag you already have implemented will collect data and send it to both GA3 and GA4.
However, tag customizations will not work in GA4.
If you don't know how Analytics is implemented on your website, don't worry, the GA4 configuration wizard will detect it for you and will enable or disable that option.
We continue with the scenario in which the GA3 tag is not implemented through gtag.js, as in a later article we will see how to implement the GA4 tag from Tag Manager. Just to comment that in the case of having gtag.js installed what we would do when enabling data collection is to establish a connection between GA3 and GA4 that would send data to both properties with a single tag. Someday I'll come back to this configuration in another article.
Creating the GA4 property
The next step is to click on the Create property button. Once this is done, you will have created your GA4 property. In the wizard screen you will see the following:
Property status has changed from offline to online.
You can explore and configure your property.
You can disconnect your property (I don't recommend it unless you want to delete it).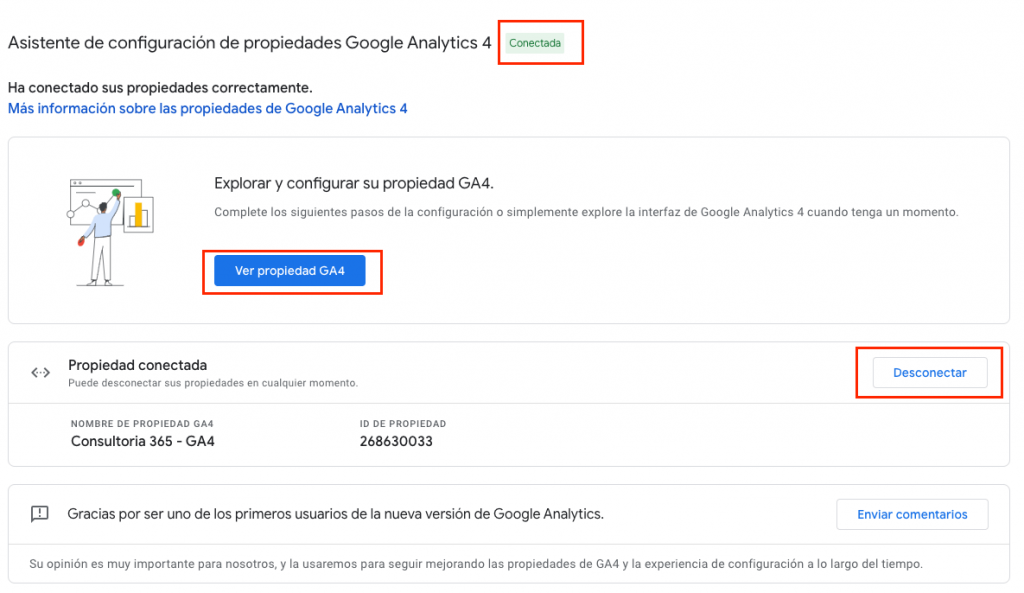 Let's continue by clicking on the view property GA4 button.
Configuration Wizard
This will bring up the setup wizard, a sort of checklist of the steps you need to take to set up your GA4 property.
And here again a warning, GA4 is evolving, so it is possible that as Google adds new features, these will be added to this assistant and the actual image will be different than the one included in this article.
In another article we will see how to configure your GA4 property, but from this list you will be able to configure your property options, for example:
Create the data flows and install the GA4 tag on your website.
Enable Google Signals. This is enough for an article.
Configure the Enhanced Measurement of GA4.
Link GA4 property with Google Ads and Google BigQuery.
Define custom audiences.
Configure conversion events.
Once the property is configured, it's time to implement it, but that's the subject of another article or articles.
I invite you to leave your impressions and/or doubts in the contact form and to suggest new topics that you would like me to cover in these tutorials. I will be happy to answer you by email and write in this blog.