At the end of last month checking my Google Analytics view I discovered that for a couple of days the sessions (visits) had skyrocketed. In two days, according to Google Analytics, I had had almost 3000 sessions, the vast majority came from China, and I assure you that I don't have the website translated into chinese 🙂
Estaba claro que había sido tráfico proveniente de spam, un robot se había dedicado a mandarme hits a mi Analytics… Esto hace que todas las métricas se distorsionen y es una pascua la verdad…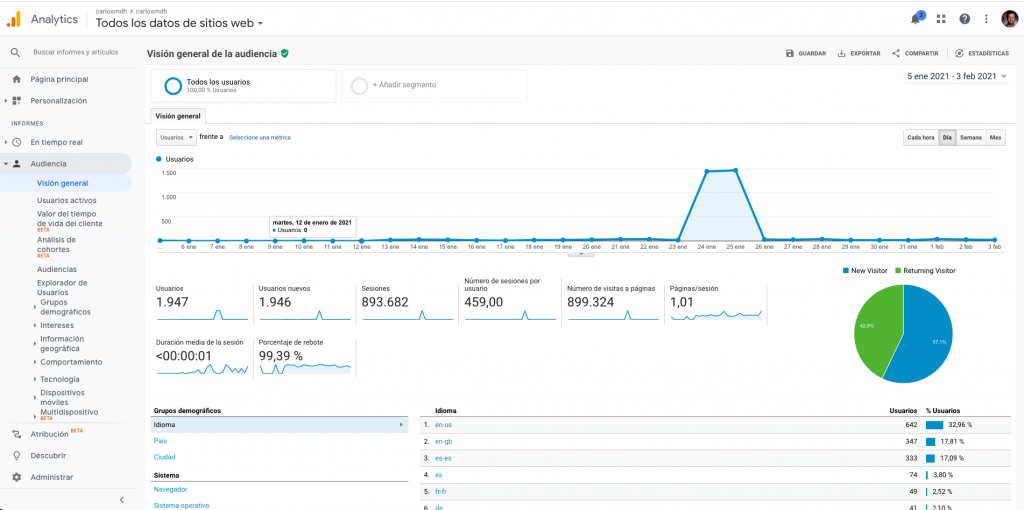 Hoy me he encontrado con un tweet de Diego López en el que comentaba que había tenido el mismo problema:
How to filter bot traffic
Desde hace tiempo, Analytics dispone de una opción para bloquear el tráfico proveniente de bots, solo que hay un pequeño problema, este filtro es reactivo, es decir, Analytics va actualizando las definiciones de estos bots cuando los detecta, pero si tienes la mala suerte de recibir un ataque de spam de un bot nuevo, el filtro no es capaz de identificarlo y te carga las sesiones en tu vista.
Para saber si tienes este filtro activado tienes que ir a la administración de tu cuenta de Analytics y en la columna de vista, acceder a la configuración de la misma y ver si tienes activado el «Filtrado de robots».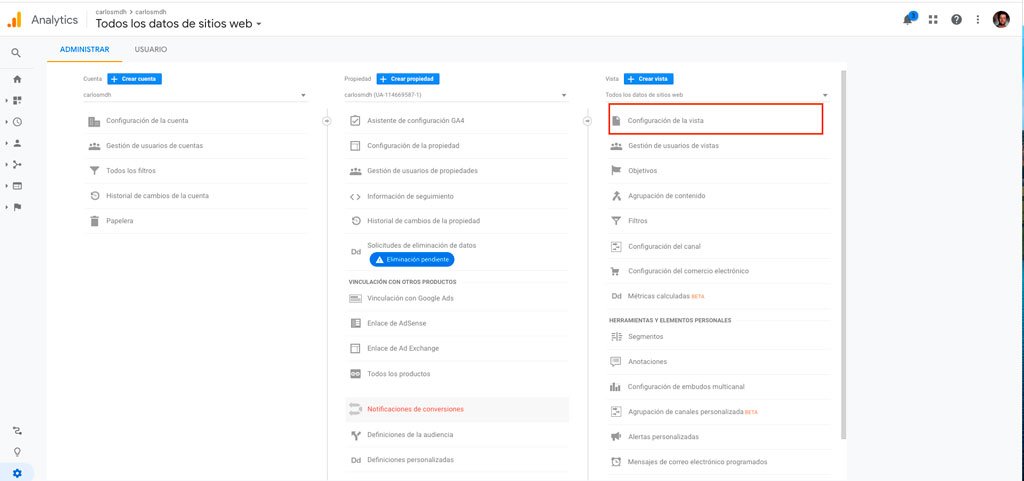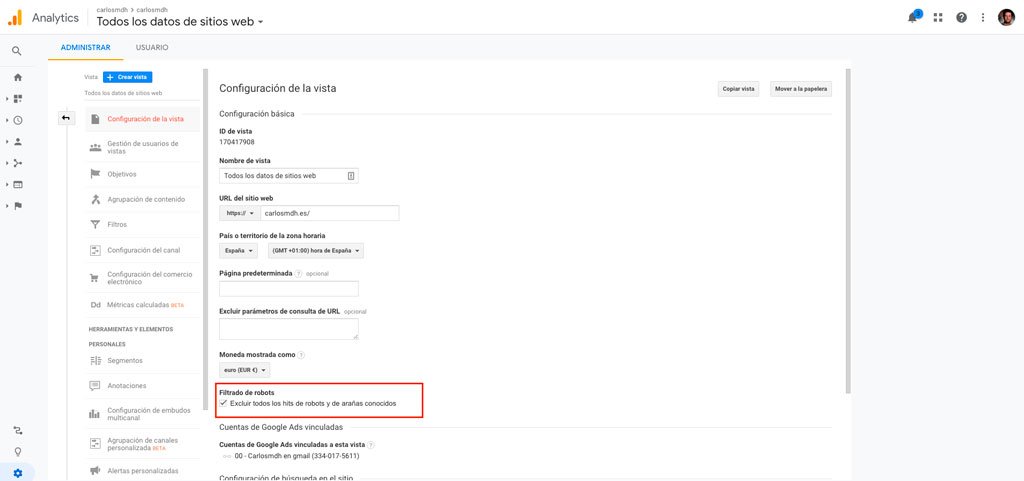 Pero como he comentado anteriormente este filtrado es reactivo, es decir, Analytics va añadiendo fuentes una vez que las detecta, lo que hace, como ha sido mi caso y el de Diego, que en un momento podamos tener hits spam en nuestras vistas de Google Analytics.
There are two solutions while you wait for Google to update the spam filter:
Realizar una solicitud de eliminación de datos.
Crear un segmento que excluya este tipo de «tráfico».
Data deletion request
En el primer caso, haremos una solicitud a Google para que elimine el tráfico en un periodo determinado. En mi caso sería entre el 24 y el 25 de enero. Pero esto nos supone un problema, y es que eliminaremos todo el tráfico, es decir en esos días es como si nadie hubiera visitado nuestra página.
In addition Analytics warns us that in this data deletion the time zone on which it is based is UTC and not the time zone you have defined.
Y para más INRI, también te advierte que se pueden eliminar datos de tres días antes y / o después del periodo solicitado, con lo que parece que no es una muy buena idea.
Fortunately, making a request does not mean instant deletion, because if the deletion is accepted, Google sends an email to the administrators and gives a grace period of seven days to cancel the deletion.
De todas formas, si deseas solicitar el borrado de datos, la opción se encuentra en Administrar > Propiedad > Solicitudes de eliminación de datos. Tú mismo.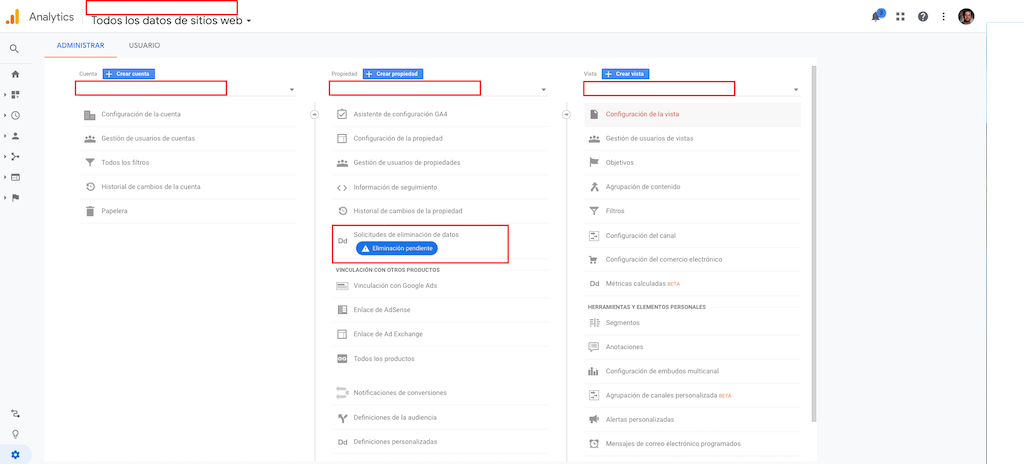 From there we can configure the deletion of data, choosing the period and what data we want to delete. Also, once this request has been created, from that same point we can revoke the request without waiting to receive the email.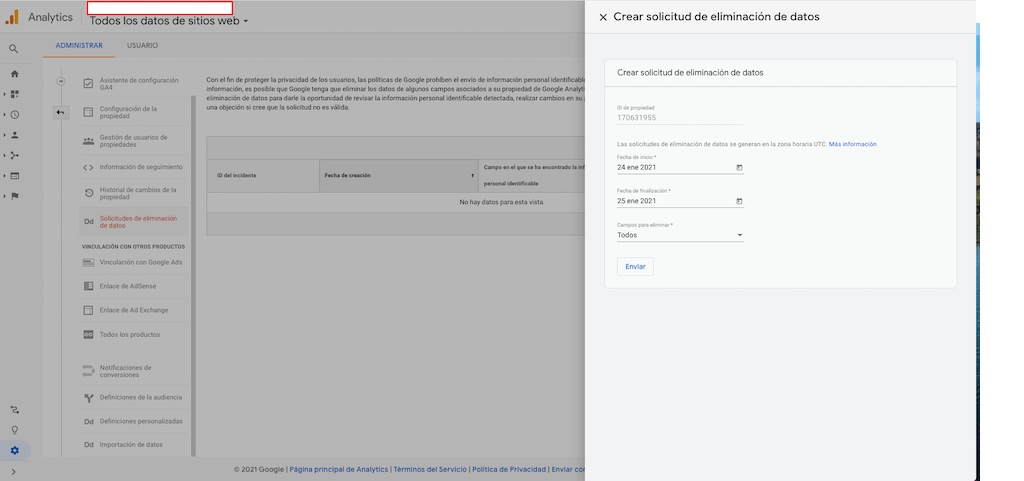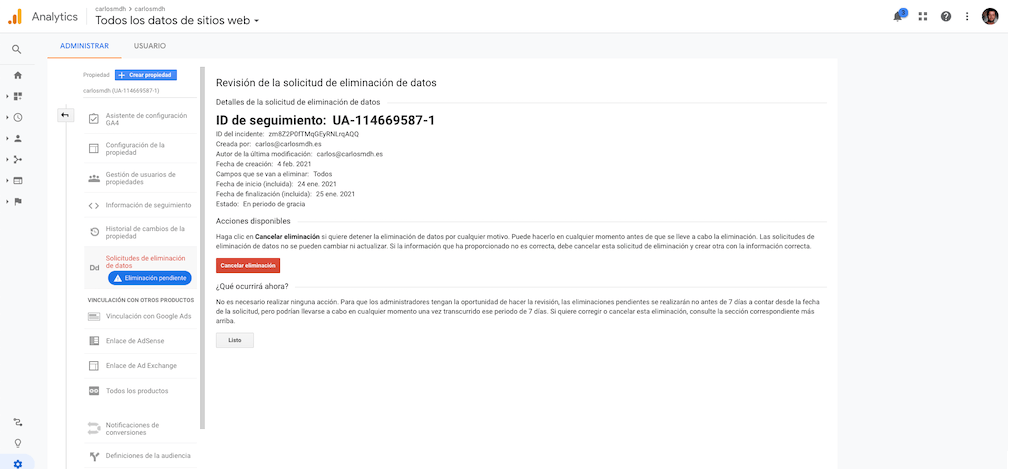 Esta opción es un poco «radical» ya que perderemos todos los datos del periodo eliminado. Así que vamos ha ver otra opción menos restrictiva: Crear un segmento que excluya el tráfico de robots.
Create a segment that excludes robot traffic
Let's see, the approach is that these visits are made from a bot, ie a program, not from a browser.
Por tanto, si creamos un segmento que excluya aquellas sesiones cuyo «tamaño del navegador» contiene (not set) podremos después aplicarlo en los informes y separar el tráfico real del tráfico de bots.
Para ello, desde Administrar nos iremos a la columna de vista y seleccionaremos la opción de «Segmentos». Una vez ahí, configuraremos un nuevo segmento que podemos llamar, por ejemplo, «Excluir tráfico de boots» tal y como describo a continuación:
Advanced Options > Conditions.
Filter: Sessions > Exclude.
Condition: Browser size > Contains > (not set).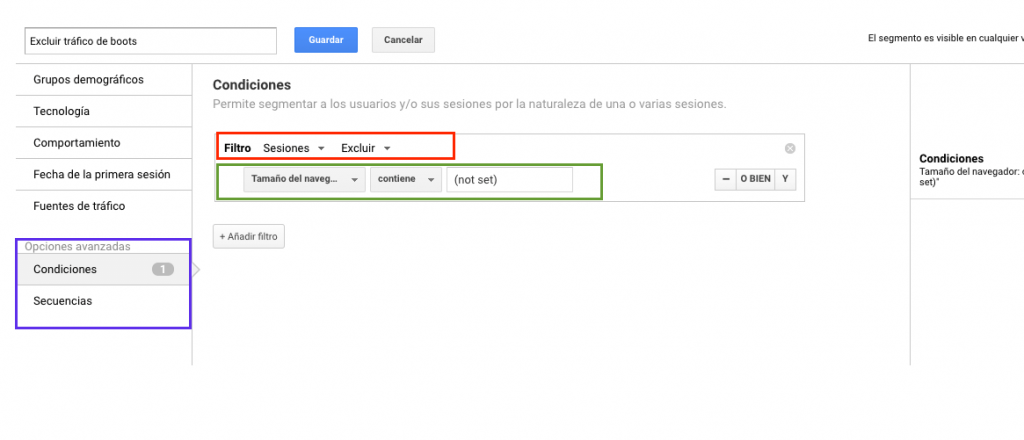 Once this segment is defined, we can apply it to any view and in this way we will be able to separate the traffic coming from bots from the real traffic.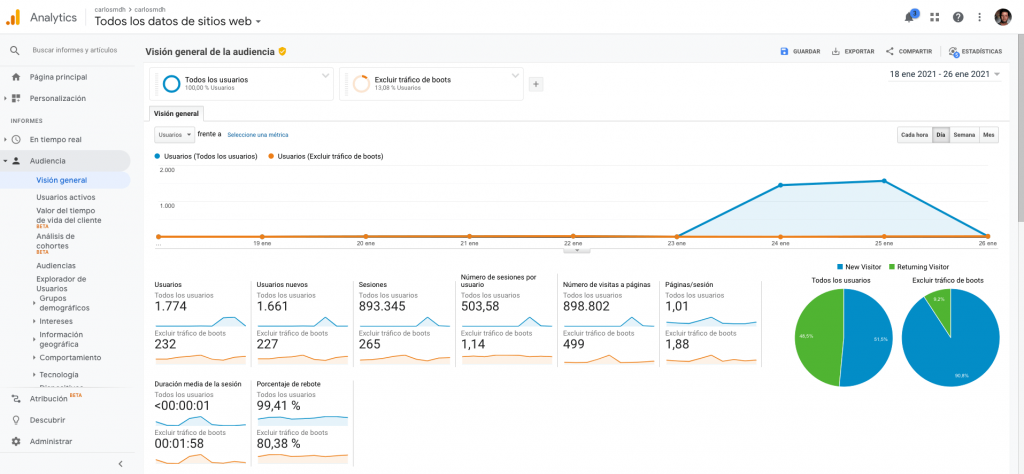 Conclusion
En el caso de encontrarte con una ataque de spam de bots, la mejor forma de restablecer la normalidad es crear un segmento que excluya ese tráfico.
I invite you to leave your impressions and/or doubts in the contact form and to suggest new topics that you would like me to cover in these tutorials. I will be happy to answer you by email and write in this blog.