One of the main advantages of carrying out online marketing actions is that their results can be measured more accurately and, in addition, in real time, being able to balance efforts according to what we see, or even pause a campaign that is not giving the result we expected.
To be able to measure these results we have a method that will allow us to know where a visit comes from, regardless of the different options we have chosen to publish our campaign: Campaign labelling.
Let's imagine that we want to carry out a subscription campaign to a blog and for that we prepare a landing with a form and different communication formats: An organic post on Facebook, a twit, an email marketing action that will come out in two waves, a banner that we will place on the top of a newspaper and another smaller banner that we will place on the side of the same newspaper, an ad on Facebook Ads.... How do we control which sessions come from each of these sources?
The answer is by tagging the landing url. In this way we can know which media and which fonts, and even which format within the same font, have had better results.
I'm sure you've come across urls of the type "http://mistioweb.com/landing?utm_source=usuarios_base&utm_medium=email&utm_campaign=suscripcion_enero" (if not, take a look at the next url you find after clicking on a link in an email). Well, that's a tagged url and it helps Google Analytics to identify and record where this visit comes from, to later show the results of the campaign.
Utm parameters
To carry out the labelling, five parameters are used which have already been defined and which are understood by Analytics:
Name of the Campaign (utm_campaign ) and that will be the name with which we want to identify it.
Medium (utm_medium) that refers to the medium or channel in which the campaign is carried out.
Source (utm_source ) specific reference to the website where the campaign is published.
Term (utm_term) that will be, for example, the word for which we want to configure this campaign and that we should not confuse with the keywords SEO or SEM search.
Content (utm_content) that is usually used to, for example, differentiate two links to the same action in the same source, such as two banners in the same web but with a different message or size.
The first three are mandatory, while term and content are optional.
To each of these parameters a value is added that will define the dimension we are measuring in our Analytics.
By default, we are free to put the value we want in each parameter, but if we want to have coherence, we must adopt a logic that allows us to name certain values of different campaigns in the same way, especially regarding the medium and source.
In this way, we SHOULD NOT, for example, put in source for a campaign my_web and in the next campaign that we make in the same web put in the same parameter the value "http://miweb.com" or Facebook in a campaign, facebook in another (yes, difference between capital and small letters) and fb or FB in a third.
Tools to label a url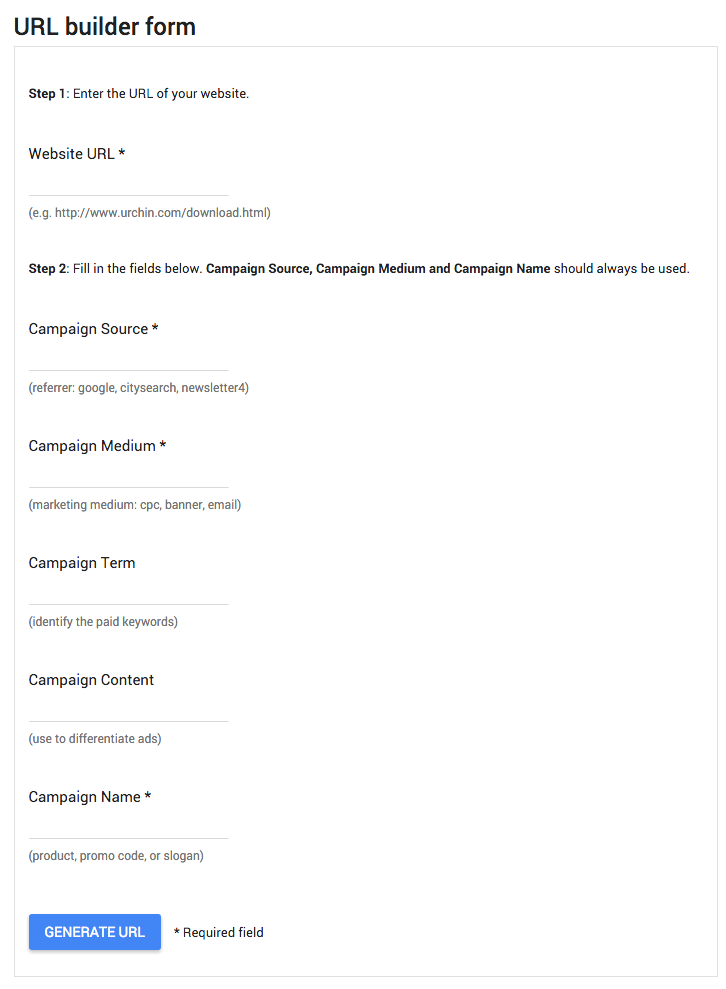 Once we have developed a guide for consistent labeling, it is time to think about how to do it. First of all, for those of you who have been scared thinking that you have to write a "churro" url with all the parameters and values, don't worry, there are solutions for, with a few copies/pastes, having our url perfectly labeled.
If we want to tag a single url, we can access the Google url creator which will allow us to access a form where entering the url and parameter values will generate the labeled url.
But if we want to get more than one tagged url for the same campaign in a massive way, it is best to use Google Analytics Campaign Tagging Tool a tool created by the consulting firm Cardinal Path. In addition to creating the labeled url, it allows us to shorten it, from bit.lywithout having to leave the tool.
Practical advice
And finally, a few tips based on my experience about how to label campaigns.
In none of the parameters you should use characters like accents, parentheses, quotes, "ñ"
Don't use spaces between words either, if we don't want to run into the annoying "%20". The best option is to separate the words with underscores " _".
Try to always write the values in lowercase.
Whenever you make an organic campaign in Social Networks shorten the urls, for example with bit.ly.
However, in the campaigns of Email marketing or in Pinterest, LinkedinIf you have a website, an ads campaign in any media (including social networks) or in external networks, it is not necessary to shorten the urls.
An exception to the previous point. Unless we disable automatic tagging, ad links, of any kind in Google Analytics do not need to be tagged.
One piece of good news, except for point 1, the rest we can control from the Google Analytics Campaign Tagging Tool that I told you about earlier.
Conclusion
And, remember, every time we have to add a link to a campaign, do as the dog in the ad said: LABEL , LABEL! 🙂
Nothing more, just invite you to leave me your impressions and/or doubts in the Contact Form And that I propose new topics that you would like to try in these tutorials. I Will Be happy to answer by email and write on this blog.