As we have seen before, Analytics reports are composed of dimensions and metrics. By combining them, Google Analytics can generate almost any type of report that will allow us to measure marketing activities and user behavior.
A dimension describes characteristics of the data. For example, the type of user (new or returning) is a user dimension, the source of traffic or the country from which you visit us are session dimensions, and the name of the page you visit is an interaction dimension.
Metrics are quantitative measurements of data. They can indicate the frequency of an event or the total number of users, or averages, such as the average number of page views per session.
The dimensions and metrics are combined with each other and thanks to this combination, we can interpret the reports that Analytics offers us.
By default, dimensions and metrics appear in a table where the first column contains the dimension values (country, traffic source, page title...) and the other columns show the metrics and corresponding values.
Something to keep in mind is that not all metrics can be related to all dimensions, this is because each one belongs to a hierarchical level of data within Analytics, remember: User, Session and Interaction. This is why only those dimensions and metrics that correspond to the same level can be combined.
For example, bounce rate is a session metric and is only used with session dimensions, such as traffic source or location, and therefore, it would not make sense to use it in an interaction dimension such as page title. In the same way, the time on page metric is an interaction metric that measures the time users spend on a specific page, so it would not make sense to use it in a session dimension such as traffic source or location. To learn about the relationship between dimensions and metrics in Google Analytics, check out the dimensions and metrics reference for programmers.
By understanding what the dimensions and metrics are and how to combine them into reports, we will be able to get the data to analyze the website and improve it.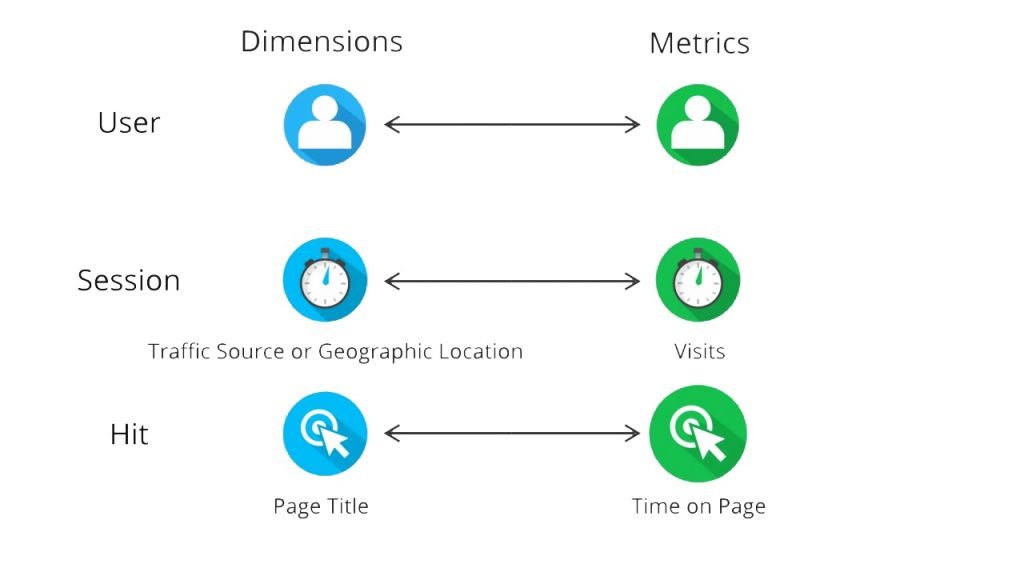 I invite you to leave your impressions and/or doubts in the contact form and to suggest new topics that you would like me to cover in these tutorials. I will be happy to answer you by email and write in this blog.