In the previous articles, we have seen the first component of Google Analytics, the collection of data, and the three ways that exist to do it depending on whether we are talking about a website, a mobile application developed on iOS or Android or any other type of device.
En los próximos tres artículos vamos a hablar de dos componentes muy relacionados entre sí, que nos van a permitir organizar y transformar los datos que llegan a Analytics para convertirse en información que luego podremos visualizar en los informes: Procesamiento y Configuración.
El componente de procesamiento realiza cuatro transformaciones de los datos, transformaciones que podemos en todo momento controlar, al menos en parte, mediante la configuración de propiedades y vistas; Organización de los datos, incorporación de datos desde fuentes externas, modificación de los datos antes de añadirlos, agregación de los datos a la cuenta de GA.
En primer lugar Google Analytics organiza los datos en usuarios y sesiones, siguiendo unas reglas estándar para diferenciar entre ambos, reglas que pueden configurarse en las opciones de configuración.
En segundo lugar, se puede configurar Google Analytics para que incorpore datos de otras fuentes, como por ejemplo Google Adwords, Google Adsense, Google WebMaster Tools, o incluso de herramientas de terceros.
En tercer lugar Google Analytics modifica los datos a partir de las reglas de configuración que se añadan, que indicarán a Analytics que datos añadir y que datos excluir, o incluso modificar el formato de estos datos.
En último lugar, Analytics agrega estos datos, organizándolos de forma lógica con el objetivo de poder ser analizados mediante los informes que nos aporta o mediante informes personalizados que creemos nosotros.
Understanding how GA transforms raw data during this processing and how to control it through configuration is essential to optimally manage and interpret reports.
Procesamiento de hits en usuarios y sesiones
Como ya hemos comentado en un artículo anterior, el modelo de Google Analytics se basa en tres componentes: Usuarios, sesiones e interacciones, mediante los cuales organiza los datos de los informes. Estos componentes proceden de los datos que el código de seguimiento envía. Para empezar, vamos a ver cómo Analytics transforma los datos en usuarios y sesiones.
Lo primero es saber la forma en la que  Google Analytics crea un usuario. Antes de nada, definir lo que Analytics entiende cómo dispositivo: Dispositivo es cualquier navegador, o aplicación que accede a un contenido, es decir, si en un ordenador, tablet  o móvil tenemos instalado Chrome y Safari, cada uno de ellos es un dispositivo y Analytics lo identificará, por defecto, cómo un usuario, es decir si entramos en la misma Web, en la misma página y desde el mismo ordenador desde Chrome y Safari, para Google Analytics, serán dos usuarios, aunque la persona sea la misma.
The first time a device loads a piece of content, a result is recorded (e.g. a page view). At this point Analytics generates a unique and random identifier for this device so that, as we have already mentioned, each device is a unique user. This identifier is sent with each interaction and when it detects a new identifier, Analytics will count it as a new user, while if the identifier it receives is already saved, it will count it as a recurring user.
In the event that the identifier is deleted, for example by clearing cookies or uninstalling and reinstalling an application on a mobile device, the next time the device loads the content, Analytics will assign a new identifier, so you will be identified as a new user rather than a returning user.
By default, as I mentioned before, a unique identifier is set for each device, but it is possible to configure the way in which Google Analytics creates and assigns that identifier, that is, we can tell Analytics that, instead of assigning a random number for each device, use a number assigned by us on multiple devices, so that we can associate the interactions of a user from multiple devices. But this is something that we'll cover later in other articles...
Let's see now how Google Analytics creates sessions. A session is a collection of interactions during a defined period of time, such as several page views, file downloads, commercial transactions... A single user can generate several sessions that can occur on the same day, in several days, weeks or months because as soon as a session ends, another one can start.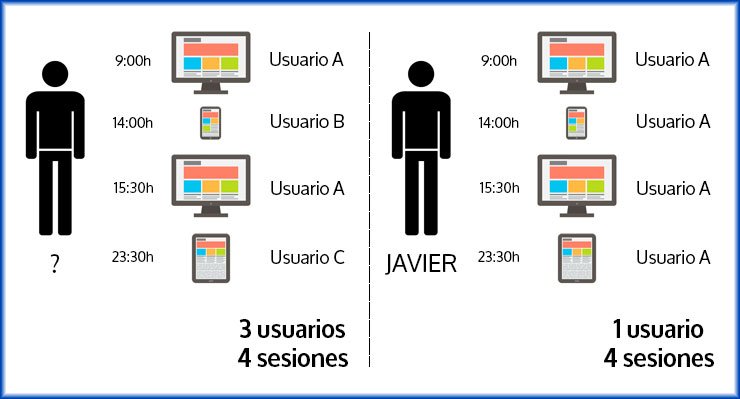 In order for Analytics to know when a session has ended, several cases can occur:
30 minutes pass without anything happening (no hits are sent). By default, Analytics terminates sessions if it does not receive a result or hit within 30 minutes from the start of the session.
The user closes the device from which the content was downloaded, i.e., closes the browser or mobile application.
That the user leaves our website.
For example, if a user arrives at our website after clicking on a Google search result, after loading the page it will be detected that it is a new user and that there has been a page view, so the first hit is sent and the session time starts counting. If you click on any internal link on our page, a new page view will be sent, processing this hit within the same session.
Let's suppose now that the user leaves the web page open and goes to eat, taking an hour, when he comes back he clicks to go to another page, this hit will already be part of a new session, not the previous one that was closed after 30 minutes, since Analytics detected that this period of time passed without having received any data. Therefore, the data will be processed in two different sessions.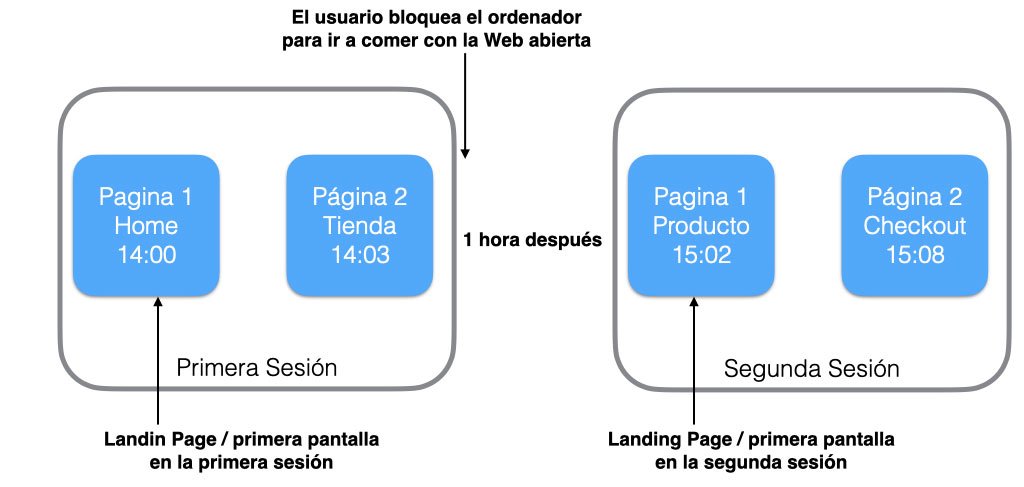 Obviously, from the Analytics configuration we can define the duration of a session, by default 30 seconds. For example, let's imagine that our website is dedicated to serve streaming videos, and that these have a duration longer than 30 minutes, in that case, it would be advisable to extend the session time. The minimum duration of a session that we can configure is 1 minute and the maximum of four hours.
In summary, users and sessions are two important pieces in the Analytics analysis model, being the key pieces of all the reports it presents us with. That's why it's important to know how Analytics creates both from the raw data it receives in order to make the best use of the reports.
I invite you to leave your impressions and/or doubts in the contact form and to suggest new topics that you would like me to cover in these tutorials. I will be happy to answer you by email and write in this blog.