...when GA4 is the default option.
Surely you may have noticed that when you create a new Google Analytics property it defaults to GA4. This has led to believe that it is no longer possible to create new Universal Analytics properties, and even ensure that if you do not upgrade to GA4 you will lose data.
It is true that Google wants to push to implement the new measurement platform and that is why they have somewhat hidden the option to create a GA3 property. But by the same token, it is true that you can still create Universal properties, either as a standalone property, or at the same time as creating a Universal Analytics property and a GA4 property.
Let's see how to do it.
Create a Universal Analytics property in April 2021.
I have already mentioned that we are in a time of continuous changes, that's why the phrase ...in April 2021. So if we want to create a new UA property, these are the steps:
The first thing is to go to the administration section of the Google Analytics account and once there, in the central column, which allows you to create and configure the properties, click on the top blue button + Create Property.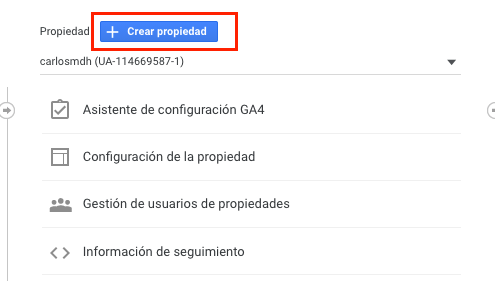 This will give us access to a new page in which, in principle, everything seems to indicate that this new property is going to be GA4, but relax, we now see how to skip this option by default.
What we will have to do is to complete the data required by this screen, namely:
Name of the property.
Time zone.
Currency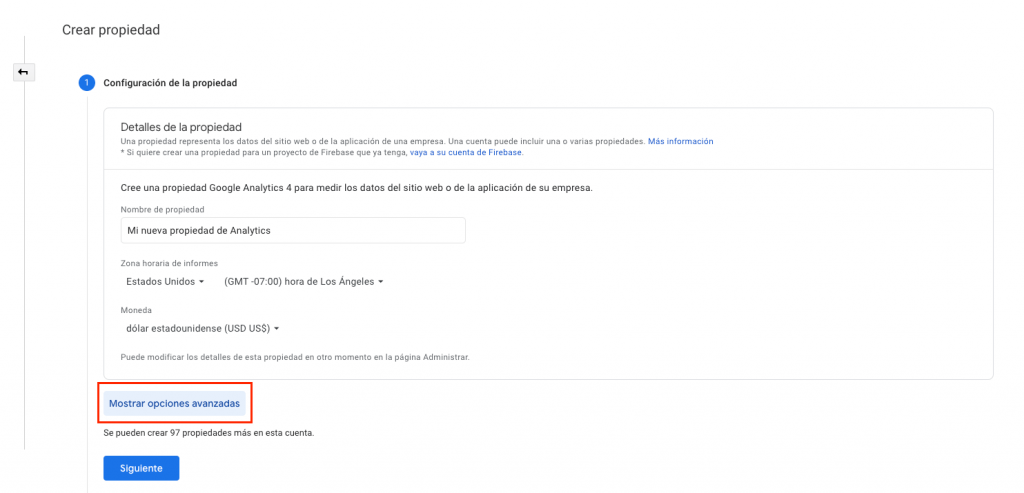 And just below this configuration data you have the hidden part where you can decide what kind of properties to create. This is the Show advanced options button.
Once you click on this button a list of options will be displayed where you can decide whether to create a Universal Analytics property or not thanks to a toggle button that by default you will see that it is disabled. If you activate it, obviously, you will be able to create the Universal version.
First of all you must write the url of the website, without the https:// protocol. Once you have done this you have two options, create a Universal property and a GA4 property or create only a Universal property. If you choose the first case, you can also choose whether to enable the Enhanced Measurement in the GA4 property, which is highly recommended.

And that's it, once you have decided if you want to create both properties or only the Universal Analytics property, just click the next button, answer a few questions, more statistics than operational and you're done. You still have to implement the code to be able to do the tracking, but this is the subject of another article.
I invite you to leave your impressions and/or doubts in the contact form and to suggest new topics that you would like me to cover in these tutorials. I will be happy to answer you by email and write in this blog.