Since Google released the new version of Analytics at the end of 2020, moving from calling the App + Web properties to Google Analytics 4, I have encountered many queries about when it is time to upgrade and what to do with the previous version (Universal Analytics or GA3).
I have also read many articles recommending that you upgrade immediately, because, according to these articles, if you don't upgrade you will lose data. These articles and videos have generated confusion. Just to tell you that this is absolutely FALSE, you are not going to lose anything by not upgrading to Google Analytics 4.
Update March 2022: Obviously, after Google announced that on 01 July 2023 Universal Analytics will no longer be available, I must retract what I said in the previous paragraph.
So what do I do, do I upgrade to GA4 or not, how do I do it, do I keep my Universal Analytics property? Let's try to answer these questions and see what options we have:
Upgrade to GA4 and forget about Universal Analytics.
Keep GA4 and GA3 in parallel.
Do not upgrade to GA4
Do I lose data if I don't upgrade to GA4?
Earlier I mentioned this, when GA4 was released, videos appeared on Youtube warning that if you did not upgrade to GA4 you could lose important data, or that if you created a new Analytics account, you could only create GA4 properties and the option to create Universal Analytics properties would not be available. Both statements are FALSE.
The Universal and GA4 properties are, in principle, independent of each other and store the data they collect in separate spaces. In addition, Universal data, as has been the case with previous versions of Analytics, will be retained for years, many years.
And as a reason why this is so, let's take as an example what has happened with the previous version of Google Analytics, known as Classic Analytics, prior to Universal and which we can call GA2.
Classic Analytics was released in 2005 and replaced by Universal in 2012, well, you can still find websites that use GA2 and get data from that implementation.
Obviously, there will be features in these GA2 properties that have been implemented in GA3 or GA4 that are not going to be available, but the data is still being collected. The same thing is going to happen with GA3.
In addition, Universal Analytics is the most widely used measurement platform in the world today, remember I am writing this article in April 2021. According to Builtwith, more than 20 million websites have Universal Analytics implemented and almost 7 million sites still have Classic Analytics, while, according to the same tool, only 1.3 million sites have Google Analytics 4 implemented .
And regarding the statement about the impossibility of creating Universal properties in new Analytics accounts, it is also FALSE. It is true that the option is somewhat hidden, we will see later how to do it.
So what do I do?
It is true that GA4 has new interesting features, such as funnels or routes, but it is also true that there are many features of Universal Analytics that are not yet available in GA4, but will they be? Surely they will be, Google is launching new features every week.
That is to say, Universal Analytics is at this moment, I am writing this article in April 2021, a much more mature and developed product than GA4. I have no doubt that over the course of this year we will see the GAP between the two versions shorten and GA4 grow and mature as a product, but just for this reason alone, in my opinion, I do not think it is advisable to get rid of Universal, at least for the time being.
And in the meantime, do I forget about GA4? Absolutely not. The ideal, and this is again my opinion, is to implement in parallel the measurement with both tools, to start collecting data with GA4 and to learn how this new version works. Google itself recommends this practice, that is, to implement the measurement in parallel with both versions.
So, and this is my opinion, what I am currently doing in most of my clients is to implement / leave only Universal Analytics or add in parallel Universal + GA4 and go little by little, fine tuning this last version until I am sure that the implementation measures what I need to measure. For now I don't implement GA4 only, although I'll make a note about the latter later.
Comparing Universal Analytics and GA4
Before we look at how to update or create a GA4 property, let's review the main differences between this version and Universal Analytics. Keep in mind that there are more differences and that, as Google updates the new version, new features will appear.
GA 4 is event-driven. Let's see, here I'm going to slightly disagree with the rest of what is commonly accepted. While it is true that GA4 is event-oriented, Universal was already event-based. Only that before they were not so important and more weight was given to the session than to the events and we went from talking about concepts such as page view, time of visit... to events already created for these concepts, such as page_view, user_engagement...
The data models are different. In GA4 the data model is simpler. If you have had to create events, you will remember that in the event configuration you had to add things like event category, event action... This is no longer necessary and you will be able to send custom parameters.
You can collect data from websites and applications in the same property. One of the changes that, in my opinion, GA$ brings is the possibility of creating data flows in a single property. This way, if you have several websites and/or applications, you will be able to know from a single point what a user is doing.
Direct integration between GA4 and Google BigQuery. OK, this is not something new, it already existed in Google Analytics 360, the paid version. The advantage is that it is now also available in the standard version, i.e. the free version.
Enhanced Measurement. This is a consequence of the first function, passing the measurement to events. Before, without doing anything, basically average page views. Now you have defined by default things like clicks on outgoing links, PDF downloads, scrolling through the page. You could do this before, but you had to configure the events yourself.
Analytics Centre. Another legacy of Google Analytics 360 that is now offered in the free versions, there will now be access to reports and analytics tools, such as custom funnels and routes.
Scope. Unlike Universal, where the data model was organised on the basis of four elements: hits, users, sessions and interactions, in GA4 all the elements have a hit scope. If you want to apply something to a user, you will always have the user properties available and as for the sessions, this you will have to start forgetting, they are there, but they have little weight.
Historical data limit. Universal Analytics you could define that user data, events associated with cookies and advertising identifiers were retained on Google servers indefinitely, in GA4, for now, the default data retention limit is 2 months, although you can configure it to be retained for up to 14 months. But don't worry, this only refers to user identification data, i.e. GA4 is not going to delete views and so on from your reports.
Disappearance of views. The structure of a Universal account was clear, Account, Property and Views. In GA4 this last category disappears, at least for now, and I doubt that Google will enable it again.
Predefined reports. Currently GA4 has fewer predefined reports than Universal. But I'm sure they will implement more in the future. In the meantime, if you have already worked with BigQuery, the GA4 integration with this tool is a good opportunity to analyse data outside these reports. And if you also have Google Data Studio, but be careful, the GA4 connector does not yet work fine.
Integrations. I have already mentioned that GA4 integrates with BigQuery, and we can also integrate it with Google Ads. We are missing, among the main ones, the integration with Google Search Console and Google Optimize. Time to time.
Improvements to the measurement protocol. The option to create a secret key in order to send hits through the measurement protocol has been enabled. Although this is currently in alpha version.
…
If you want to see a detailed comparison, you can read it in this Google article.
So I upgrade to GA4 already?
Well, like everything in this world, and in this life, it depends.
It's true that Universal Analytics is a much more mature measurement platform today, but little by little GA4 is going to become the default analytics platform in the marketing world. So it doesn't hurt to start getting familiar with this new tool. The sooner you start, the sooner you'll be able to master it. Although it's true that there are still few materials (articles and videos) available...
So the decision is yours. Do you want to learn now but with a higher time cost and doing it with the trial and error method? If the answer is yes, don't hesitate to implement it in parallel with Universal Analytics.
If, on the other hand, you want to wait until the tool is more mature, there is more documentation or your time is more limited, wait and continue with Universal Analytics. Although, in my opinion, you should consider taking it up again at the end of 2021. However, in this case you will have to learn, and implement, more things.
Parallel tracking
On several occasions I have talked about the parallel tracking or implementation of both platforms, what does this mean? Basically, having both Universal and GA4 on a website at the same time.
Don't worry, there won't be any interference between both properties, but keep in mind that, for example, the _ga cookie, which is the one that identifies a device, is used by both Universal and GA4.
From there, if you implement parallel tracking you can run into two scenarios:
If you have already implemented Universal Analytics with gtag.js, either because you have put the tag provided by Google in the header of your pages (bad option), or because you have used the implementation I showed you in a previous article through a mu-plugin, or because you add it with a RGPD plugin or an HTML tag through Google Tag Manager, you will be able to connect this tag to send data to both properties but, depending on the complexity, there will be things that will not work as if by magic, so you will have to review the tag and make changes.
If you have Universal Analytics tags implemented through Tag Manager, you will be able to create GA4 tags in the same container, and this is perhaps the most recommended option.
And if my project / website is new, what should I do?
Well, if you are starting with a new website you may be wondering what do I do, do I create only the GA4 property, can I create a Universal Analytics property, and if so, what do I do?
As always, what I am going to express is my personal opinion.
I've already mentioned that GA4 has a limited feature set compared to Universal Analytics, so, in my humble opinion, it's best to implement both platforms in parallel. At least as of today: April 2021. Surely throughout 2021 this will change as Google releases new features and this opinion changes.
I would only add one exception to this: If you are a BigQuery expert it might make sense to just install GA4 and dispense with Universal, but if you are not, I recommend that you continue with parallel tracking.
And, having said that, let us dismantle another of the claims that have been falsely made.
We can still create Universal Analytics properties
At the beginning of this article I commented that videos had appeared saying, among other things, that if you created a new Analytics account it would be impossible to create a Universal property. This is not the case.
It is true that the option is somewhat hidden, Google is interested in promoting the new GA4 properties but still allows you to create new Universal Analytics properties, both in new and existing accounts.
To do this, simply click on the create property button at the top of the properties column.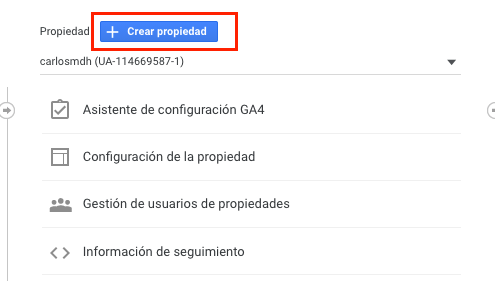 Once clicked, Google Analytics will show us a screen where we will have to enter the name of the new property, the time zone and the currency and, just below, we will see a clickable option Show advanced options that, when clicked, will show us these options.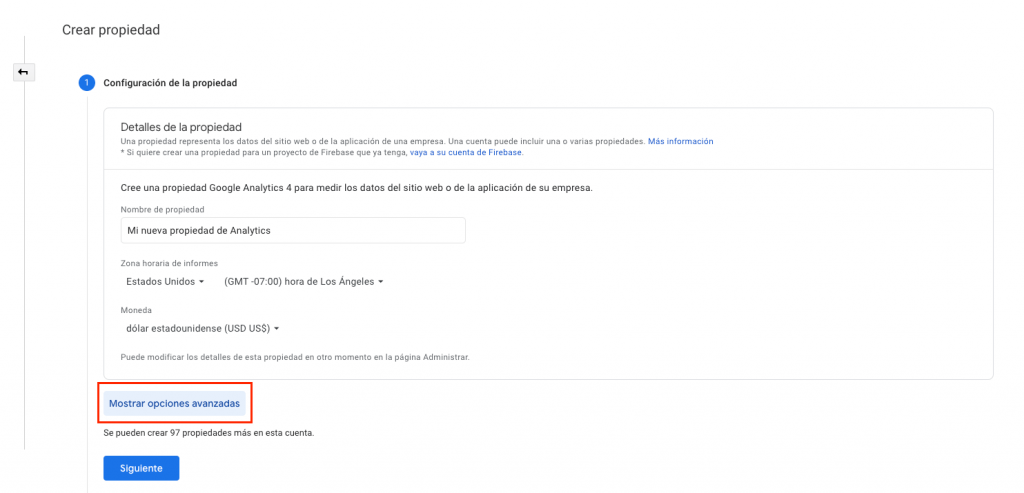 Once clicked, we will see a new section where we can activate the creation of a Universal Analytics property and also, what we want to do, if we want to create both GA4 and Universal properties, and in this case enable the Enhanced Measurement in GA4 or only create a Universal Analytics property and skip the GA4 one.

After this, just click on the Next button and answer a few questions, more for statistical reasons than anything else, and we will have created a new Universal Analytics property.
Conclusion So what do I do, do I upgrade to GA4 or not?
Well, more than that the question would be, do I measure my website or application ONLY on GA4?
I'm not going to be much help here, as the answer is it DEPENDS 🙂 🙂
Let's see, although GA4 is still somewhat green, you can mitigate the shortcomings it still has by linking it with BigQuery and creating reports with this tool, but of course, this will require you to know this tool and some more work. In some cases I have read that you can also use Google Data Studio, but if so, I recommend that you create the reports with the BigQuery connector, since the GA4 connector is not as fine-tuned as you would like.
Also if your interest when analyzing is basic (you have a blog and you are only interested in measuring page visits, clicks on outgoing links...) you can use only GA4 and dispense with parallel tracking.
But if you have experience with, and run through, Universal Analytics, have customized your tracking tags and use features such as advanced e-commerce, you're better off enabling parallel tracking or sticking with Universal Analytics only.
A disclaimer: I say this in April 2021, this, as time goes by and Google will enable new features, will change.
In general my recommendation is to install both versions and track in parallel with both versions, so you will have time, at your own pace, to learn how to configure this new measurement platform. But everything is up to you.
If you want to implement GA4, you can see how to do it in the following article: How to create a Google Analytics 4 property.
I invite you to leave your impressions and/or doubts in the contact form and to suggest new topics that you would like me to cover in these tutorials. I will be happy to answer you by email and write in this blog.
Update: New Links
Since I wrote this article, Google has been including in this section links to Display & Video 360, Merchant Center, Search Ads 360, Google Optimize (although this link is made from Optimize, not from Google Analytics 4) and the most awaited one, the link with Google Search Console.